Chuan Fa Martial Arts Academy
Get in shape, build confidence, change your life
Chuan Fa Academy is a traditional self defense school, teaching Kenpo Karate. Located in the Waldo neighborhood of Kansas City since 2013. Focusing on practical self defense, and application of technique. We teach both adults and children.
Features
At Chuan Fa Martial Arts Academy, we stand apart from the crowd. Here are a few of the advantages of our martial arts training that you won't find elsewhere:
Honor

Who are you when no one is looking? Our school prides itself on the honor we instill in our student base.

Discipline

Martial arts is built on self-discipline. At Chuan Fa Martial Arts Academy, you'll reach your goals, work hard, and learn skills that last a lifetime.

Humility

At Chuan Fa Academy, whether it's bowing to your opponents or behaving in class, respect and humility are at the heart of martial arts.

Character

Develop high character by persevering through difficult times, putting others before yourself, and doing what it takes to succeed.
Chuan Fa Martial Arts Academy
Kids Martial Arts (Ages 5+)
At Chuan Fa Martial Arts Academy we teach traditional Chinese self defense. We teach the same system to a 5 year old as we do an adult, with all the same requirements.
Chuan Fa Martial Arts Academy
Adults Martial Arts
Chuan Fa Academy offers an excellent self defense system for adults. Most people who are looking for real street self defense are not interested in belts, tournaments and competitions.
Great, patient instructor with a lot of passion for what he does and how he teaches.

We started a month ago. My 7 yo is really enjoying the classes and learning a lot. Definitely 2 thumbs up. Give it a try if you're contemplating it.

The trainer is more than just a teacher/coach. He has a gift of knowing how to train each individual to meet their goals specific to the student's individual needs.

The tradition and the lineage are ever present. The joy and the dedication abound! Everybody smiles, everybody trains hard, and everyone feels like a family!

Our son was a bit hesitant initially, but the instructor, as well as the other kids and parents, were patient and encouraging. Now he loves it!

It's like working with family. The owner Chris is really a nice guy and my daughter seems to really enjoy his teachings.
Why Should you Learn Kenpo?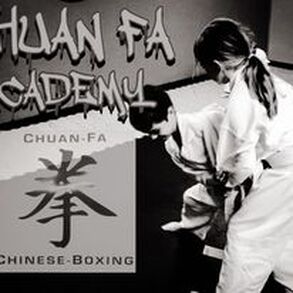 Are you an easy target for violence?
Learn personal safety skills and habits that can decrease your risks, and increase your confidence. Our program is traditionally taught with a combination of group and one on one lessons to customize the training for each student's strengths to achieve an effective form of self-defense. Chuan Fa is a comprehensive system that promotes martial arts as a way of life. The most serious student commits to embark on a quest for complete physical, mental, and emotional peace. The learning is in-depth; the journey, like life, has no true end. We aim to empower all students to use this fighting style, and art to conquer modern-day physical and mental challenges.
Try a FREE Class Today!