Chuan Fa Martial Arts Academy
About Us
Chuan Fa Academy is a small traditional neighborhood martial arts dojo. Located conveniently in the Waldo/Brookside area of Kansas City.
We are not a franchise or cooperate studio. Owned and operated by Sifu Chris Hutchings this school is rooted in traditional training and self defense. Chris has 20 years in martial arts training and 18 practicing Chinese Kenpo or Chuan Fa. Currently, Chris is a member of The Five Finger Fist Society, a society of martial artists dedicated to practicing and passing down the traditional Kenpo System.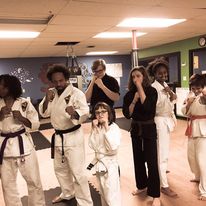 A Traditional Martial Arts School
We are a classical dojo with real family values. A small traditional school doesn't usually accept as many students since the style taught properly takes a lot of individual attention. Once accepted we offer a unique and refreshing training environment. The style and training methods are focused on street self defense and the proper application of technique. Ranks are earned not bought. We unlike many traditional schools accept children as young as 5 years old. Though we don't offer a program or system that's been watered down for children. We teach traditional Chinese boxing or "Chuan Fa". Children must train and study just like any other student. All students and their families are seen not as "clients". But as students and family in the martial arts. Training, loyalty, understanding, and honesty come before business. We are here to pass down the traditional art of Chuan Fa. The system taught here is old school. We adhere to traditional training rather than water it down for the sake of profit. There are no test fees or extra charges. Testing and rank are based on each student's individual process and understanding of the required material.
We open our doors to anyone wanting to learn self defense. Call and ask for options on self defense training. We also offer self defense seminars.
Chuan Fa Martial Arts Academy is dedicated to providing a fun, safe, clean environment for students to train in. As a traditional dojo, we are focused on self defense, character development, and role modeling. Call or submit a form to set up a time to observe a class or to talk to Mr. Hutchings, owner and instructor of the academy.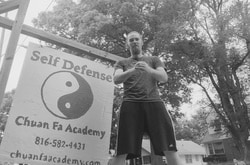 Chris Hutchings
Owner and lead instructor at the Chuan Fa Martial Arts Academy
Direct student of Sifu Mcghee, Chris is tasked to bring the tradition of Chuan Fa and Chinese martial arts training to the next generation. A great instructor of children and adults alike, Chris brings an old-school traditional mindset to a modern training environment. A combination aimed at passing on traditional values and discipline using a modern teaching approach.
Chris began his Kenpo training under his first instructor Jeff Nell at the American Kenpo Karate Academy. AKKA was founded by Bill Packer a direct student of Master Conner. Under the Five Finger Fist Society banner Chris teaches the traditional system as taught by Tom Conner and Gary Mcghee, Chris offers a very well-versed background and modern teaching approach to most effectively pass down that traditional system.
Try a FREE Class Today!
Chuan Fa Martial Arts Academy has been a great fit for our family. Our son was a bit hesitant initially, but the instructor, as well as the other kids and parents, were patient and encouraging. Now he loves it. We are grateful to have discovered this place!
We started a month ago. My 7 yo is really enjoying the classes and learning a lot. Chris connects well with the students with seriousness, patience, and a sense of humor. The students automatically respect him as a result. He runs a fun class for me to watch as well.
This is a dojo and a group of people that make martial arts study the best! I've done martial arts since being a teen and have taken a long time away. I have visited other schools and dojos in town. All good, but they didn't have the "feel" that I was used to as a kid. Chuan Fa Martial Arts Academy is such a welcoming dojo! My 6 year old daughter is now a part, as am I, and this place offers that special "feel!" The tradition and the lineage are ever present. The joy and the dedication abound! Everybody smiles, everybody trains hard, and everyone feels like a family!
It's like working with family. The owner Chris is really a nice guy and my daughter seems to really enjoy his teachings.
Great, patient instructor with a lot of passion for what he does and how he teaches.
The trainer is more than just a teacher/coach. He has a gift of knowing how to train each individual to meet their goals specific to the student's individual needs; stepping out of a cookie-cutter, one fits all training. The trainer is very open, upfront, and welcoming from the moment anyone steps into the room. He's created a family feels atmosphere with the only complaints from the students not ready for class to be over as the time seems to fly right by. My son absolutely enjoys the Academy and looks forward to the next class. I never thought I'd be interested in such an activity for myself but I'm thinking of joining the adult session as well.
Check out our special offers to make sure you don't miss out on anything we provide!
Special Offers